Shank Mounted Cut-Buffing Sisal-Cord Brush
8-Strand Knotted Sisal Cords
Ø 80 - 150 mm x 30 mm
6/8 mm Shaft
---
Sisal Cord Cut-Buffing Brush
Cut-buffing brushes with 8-strand knotted sisal cord bristles are especially suitable for rough surface processing of workpieces with a complex surface profile. In particular the flexible sisal bristles can penetrate into recesses, undercuts, corners and edges that are otherwise difficult to access. Together with a suitable, coarse polishing paste, sisal cord cut-buffing brushes provide a fine finish that is suitable as preparation for subsequent buffing, coating or anodizing.
Our shank tools are miniature versions of the tried and tested EICKELIT designs. They complement the buffing process when it comes to the precise cut-buffing and finishing, particularly of surfaces with complex geometries.
Product Features
Shank tool made from 8-strand knotted sisal cords with a thickness of 5 mm
Diameter from 100 - 150 mm
Width of 25 mm
Tensioning mandrel with a diameter of 6 or 8 mm, cast with thermosetting synthetic resin compound
Recommended optimal circumferential speed: 25 - 40 m/s
Maximum permissible speed (depending on the diameter): 5.000 - 10.000 1/min
Sisal
Sisal is obtained from specific agave species in global cultivation areas. Similar to other natural fibers, sisal fibers are very resistant to physical and chemical stresses. In addition, sisal is very tough, has high tensile strength and is also characterized by its high rigidity. This is why sisal is particularly suitable for polishing and coarse cut-buffing of metals and especially steel.
For sisal cord brushes, we only use braided cords of European manufacturers containing highest-quality sisal raw material with particularly long fibers. The cords of approx. 5 mm thickness are braided from 8-strands. This makes our cord brushes particularly soft and flexible and at the same time very resistant to heavy duty usage during polishing. Therefore, our Sisal cord brushes ensure an excellent service life and effective polishing attack.
Dimensions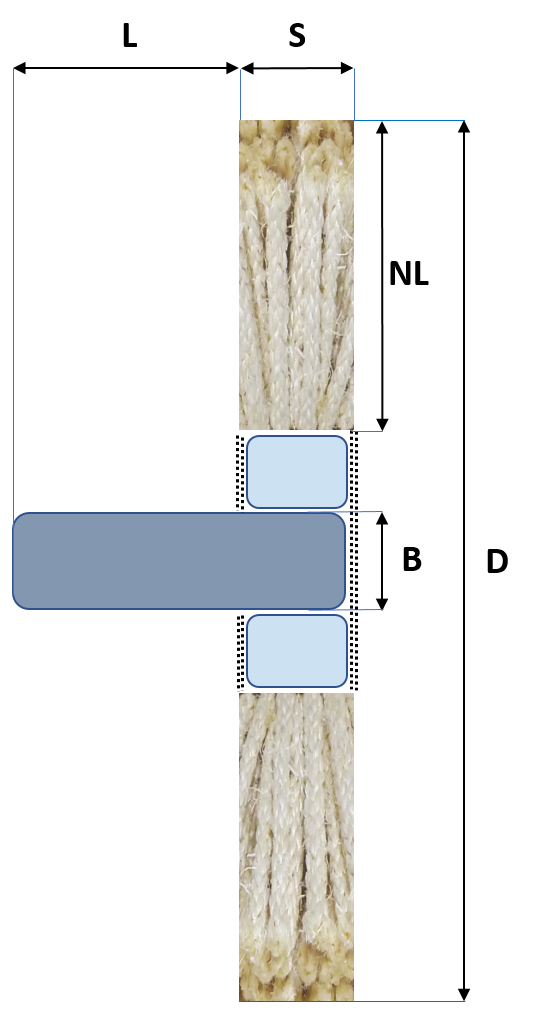 * Observe the safety regulations for the minimum clamping depth of shank tools!
---
---
Areas of Application
For polishing and cut-buffing on manual polishing machines or in robot systems
Rough prepolishing and cleaning of workpieces with complex geometries (edges, undercuts, corners, etc.)
Matting and satin finishing of steels and non-ferrous metals (fittings, profiles, etc.)
Large-scale polishing and cut-buffing of cast, tool and stainless steels (pots, sinks, machine knives, cast parts, etc.)
Edge processing in the furniture industry
General Information on Polishing
---