EICKELIT polishing tools at a glance
---
EICKELIT addresses demanding users in all industries to support them with our innovative polishing tools for polishing machines. Because the key to high-quality high-end surfaces lies in the know-how for optimal process stability.
Due to their special quality, our polishing tools make a significant contribution to the market success of the finest consumer goods. Because with our expertise, we have been supporting a growing number of renowned brand manufacturers for decades. Above all, our customized solutions help our customers to exceed the highest demands of their markets in every detail.
In summary, EICKELIT's high-performance tools are the first choice when it comes to polishing noble branded articles through to the precise machining of complex high-tech applications. Because thanks to our broad and application-specific tried and tested product range, EICKELIT always offers an optimum solution to ensure that each of our challenging customer projects is a brilliant success. See our polishing tools at a glance and find out more by clicking on the respective image.
---
---
Cotton polishing discs made of fabric plies
Polishing wheel made to measure, perfectly matched to your high-end product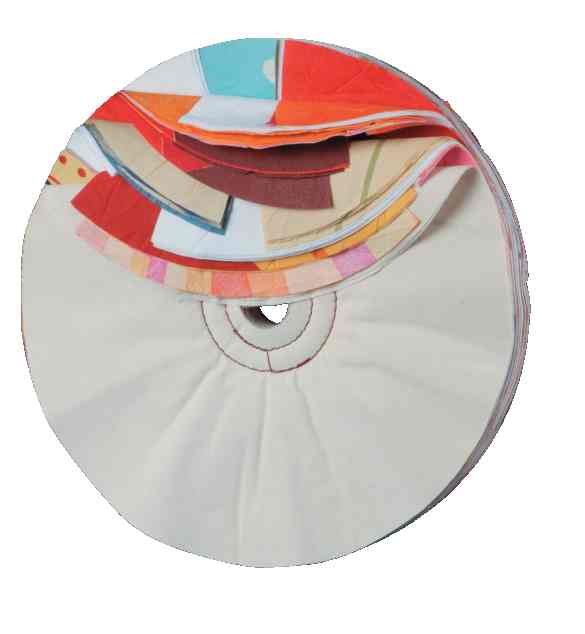 EICKELIT cotton polishing wheels made of cotton plies are especially suitable for manual polishing of metals such as stainless steel, aluminium or brass on a polishing stand or grinding stand. Due to the random alignment of the Cotton fabric layers, the concentric seams as well as an exact calibration, EICKELIT cotton polishing wheels guarantee a vibration-free concentricity for very uniform polishing patterns. We therefore recommend these discs especially as polishing discs for the bench grinder, hand-held angle grinders or together with flexible shafts.
The exact matching of yarn thickness and weave density determine the diverse mechanical properties of the cotton fabric types available from EICKELIT. With this fabric variety, we can align our polishing tools exactly to the requirements of your polishing projects.
Premium cotton with long staple length ensures soft velour, low dust and long life
Wide selection of high quality cotton fabrics
Random alignment of the individual blade layers for absolutely smooth concentricity
Working diameter can be configured in the shop as required from 150 - 600 mm
Individual bores of all known industrial dimensions can be selected, optionally with bore reinforcement if required
Any number of seams configurable up to a disc thickness of 30 mm
Optional Pre-roughened for immediate use
Available as shank tools with 6 / 8 mm shank and 50-150 mm diameter
Back to selection
---
EFFEKTA Polishing Buffs with soft pleating
High-End Effect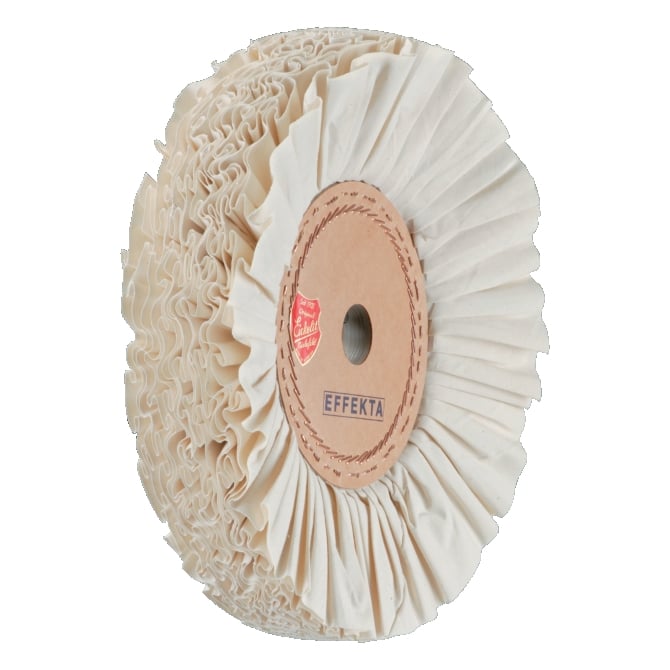 EFFEKTA is a high-performance polishing tool without running direction specification. The pleating is formed from individual layers arranged in mirror image to each other. These are soft enough to adapt to any complicated surface geometry. At the same time, they provide a completely random contact pattern on the surface. That is why EFFEKTA polishing wheels deliver unsurpassed uniform high gloss.
The unique concept of 100% seamless polishing wheels developed by EICKELIT makes our EFFEKTA polishing tools the ultimate solution for uncompromising high gloss. This is especially true in combination with our special Molton qualities in our EFFEKTA Molton buffing wheels. This is why seamless EFFEKTA polishing tools have been the industrial benchmark for the finishing of demanding plastic and painted surfaces for decades.
"100 % seamless" for innovative shine, perfectly matched to your high-end product
Variety of cotton fabric types: raw cotton fabrics, molleton, nonwovens
Single layers in alternating pleating direction
Working diameter from 150 - 960 mm
Any customisable effective lengths and core diameters
Individual bore diameters, keyways etc.
Stitched seams in any diameter for discs up to 20 mm thick
Individual composition to polishing rolls of any length
Available as shank tools with 6 / 8 mm shank and 50-150 mm diameter
Back to selection
---
KONSTANT Polishing discs with firm Pleats
Levelling Finish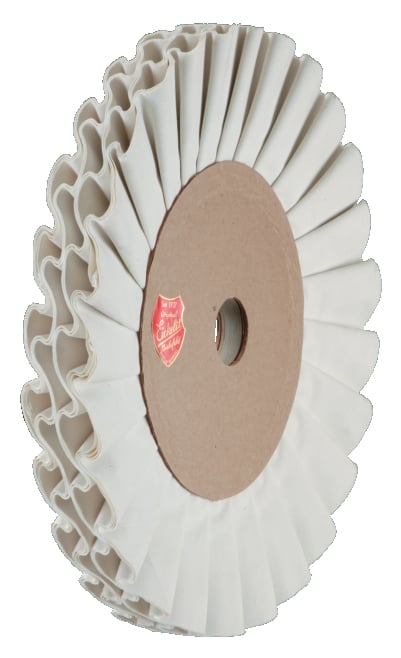 Konstant is a ventilating polishing wheel that allows solid back pressure. That is why it is used on manual and automated polishing machines for high-gloss polishing of steel and non-ferrous metals. It also delivers a flawless high gloss on plastic and on lacquered surfaces with seamless molleton materials.
Our all-round polishing wheel for all polishing tasks
Made of 45° biased raw cotton fabrics
Working diameter from 150 - 960 mm
Configurable effective lengths and core diameters
Individual bore diameters, keyways etc.
Topstitching on freely selectable radii
Individual composition to polishing rolls of any length
Back to selection
---
REX Corrugated Discs for high effectiveness
Solid counterpressure with powerful cooling effect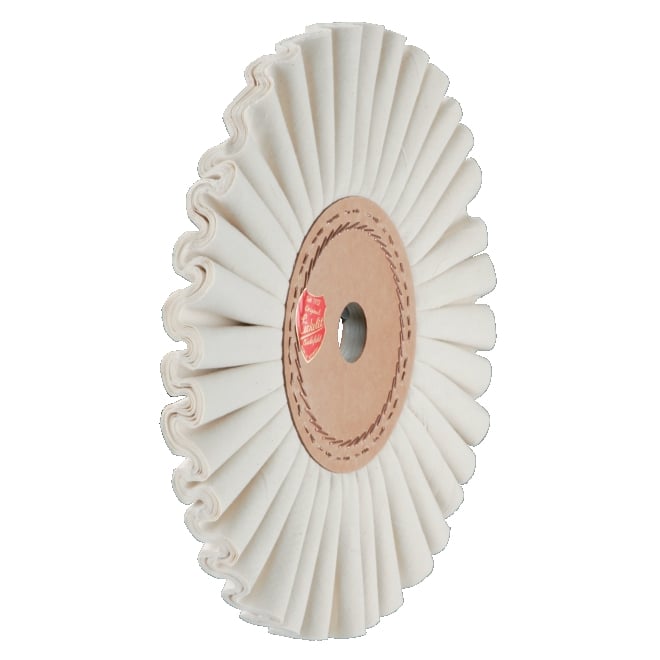 REX corrugated polishing wheels for polishing machines provide a particularly high counter pressure with a strong cooling effect, which is why they are ideal for machine polishing out grinding marks on non-ferrous metals. In addition, REX polishing wheels are preferred as roller trim for large-area polishing in the furniture industry.
Powerful tool for optimal polishing
Multiple layers of raw nettle or molleton fabrics with a 45° bias
100 % seamless if required and on sensitive surfaces
Working diameter from 150 - 960 mm
Adaptable useful lengths and wavenumbers
Individual bore diameters, keyways etc.
In-house mounting of polishing rollers of any length
Back to selection
---
SISAL cut-buffing wheels for levelling pre-polishing
Aggressive Attack

| Sisal-Fabric Cut-Buffing Disc Si-W-PK | Sisal-Cotton Cut-Buffing Wheel SB-VR | Sisal-Cotton Airstream SB-4 | Sisal-Cotton Corrugated SB-3 | Sisal-Cotton Pleated SB-XL | Sisal-Cord Cutting Brush |
When cut-buffing, the exact matching of the tool to the polishing project is crucial. Our EICKELIT cut-buffing and pre-polishing wheels are made of high-quality natural materials such as sisal fabric, sisal cords, sisal-cotton blends or Mexico fibre. Thanks to the diverse designs and our finely tunable impregnation system, EICKELIT cut-buffing tools can be adapted to any challenge.
Effective levelling and pre-polishing with the individually configurable EICKELIT sisal polishing tools
Concentric quilting circles made of natural linen machine thread at 10 mm intervals, which wear off during the polishing process without leaving any residue and at the same time as the sisal trim.
Individually calibrated for low-vibration concentricity and a trouble-free polishing pattern
Diameter configurable from 150 - 550 mm
Configurable thicknesses from approx. 12 - 27 mm (6 - 12 layers)
Freely selectable bores 10 - 65 mm
With the proven EICKELIT impregnations, our pre-polishing tools can be further optimised in terms of service life, aggressiveness and absorption capacity of grinding and polishing pastes.
Back to selection
---
Sisal Cord brushes for pre-polishing of complex geometries
Flexible efficiency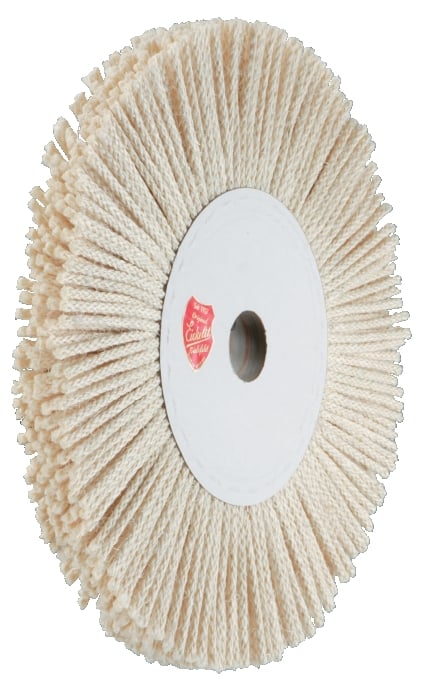 As sisal cord brushes are very flexible, they deliver excellent results when pre-polishing workpieces with complex geometries. In addition, sisal cord brushes are often used with impregnations to increase their efficiency and durability, especially in combination with coarse polishing pastes.
Effective pre-polishing for complicated surface profiles
Layers of 8-strand knotted sisal cords 5 mm thick
Fixing of the trim to phenolic resin-reinforced cardboard cores with safety stapling made of hardened staples
The discs are individually calibrated for low-vibration concentricity and a trouble-free polishing pattern
Disc diameter freely configurable from 150 - 600 mm
Thickness in the shop freely selectable from 15 - 45 mm, on request we deliver rollers up to 500 mm length
Freely selectable bores 10 - 65 mm
EICKELIT impregnations further optimise the service life, aggressiveness and absorbency of grinding and polishing pastes
Back to selection
---
Abrasive fleece polishing wheels for matt structured metal surfaces
Elegant metal design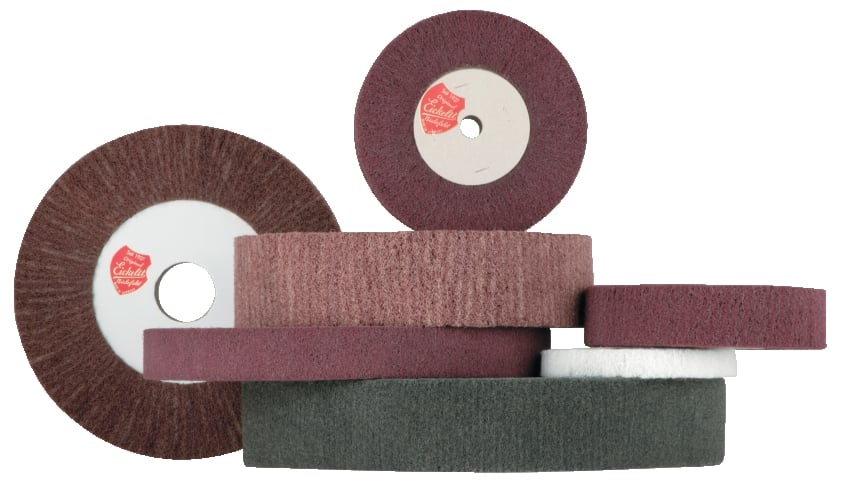 EICKELIT abrasive fleece polishing tools for matting and deburring achieve the highest efficiency with long service lives. For this purpose, we at EICKELIT rely exclusively on high-quality non-woven abrasive grades based on polyamide without polyester content. Due to our long-established European supply sources, we always have a wide range of standard abrasive fleece in consistent quality in stock.
With non-woven abrasive flap wheels or non-woven corrugated discs, you can achieve a fine to very coarse design finish, depending on the selected grit size, strength and density. For manual reworking, we also offer our range of non-woven abrasives by the metre in handy workshop rolls. Please follow our link for technical application information on the use of non-woven abrasives.
Characteristic micrographs on high-quality metallic workpieces
Silicon carbide or aluminium oxide with grit sizes "Extra Coarse" to "Ultra Fine" (Grit 45 - Grit 600 [CAMI])
Core made of cardboard or hard paper tube cast with thermosetting synthetic resin compound.
Configurable: Diameter 150 - 400 mm, thicknesses approx. 30 - 60 mm, drill holes 10 - 65 mm (hollow cores on request)
Additionally configurable in 4 ascending degrees of strength:

H0: Low density, very soft, flexible and adaptable, for easy machining of profiled workpieces with complex surface geometry.
H3: Medium density, high flexibility and adaptability, with increased resistance to clogging.
H5: High density, higher hardness and lower flexibility, thus increased service life and aggressiveness
H7: Very high density, extreme hardness for high stresses and strong aggressiveness
Back to selection
---
Shank tools for effective finishing with hand-held machines
Small power packs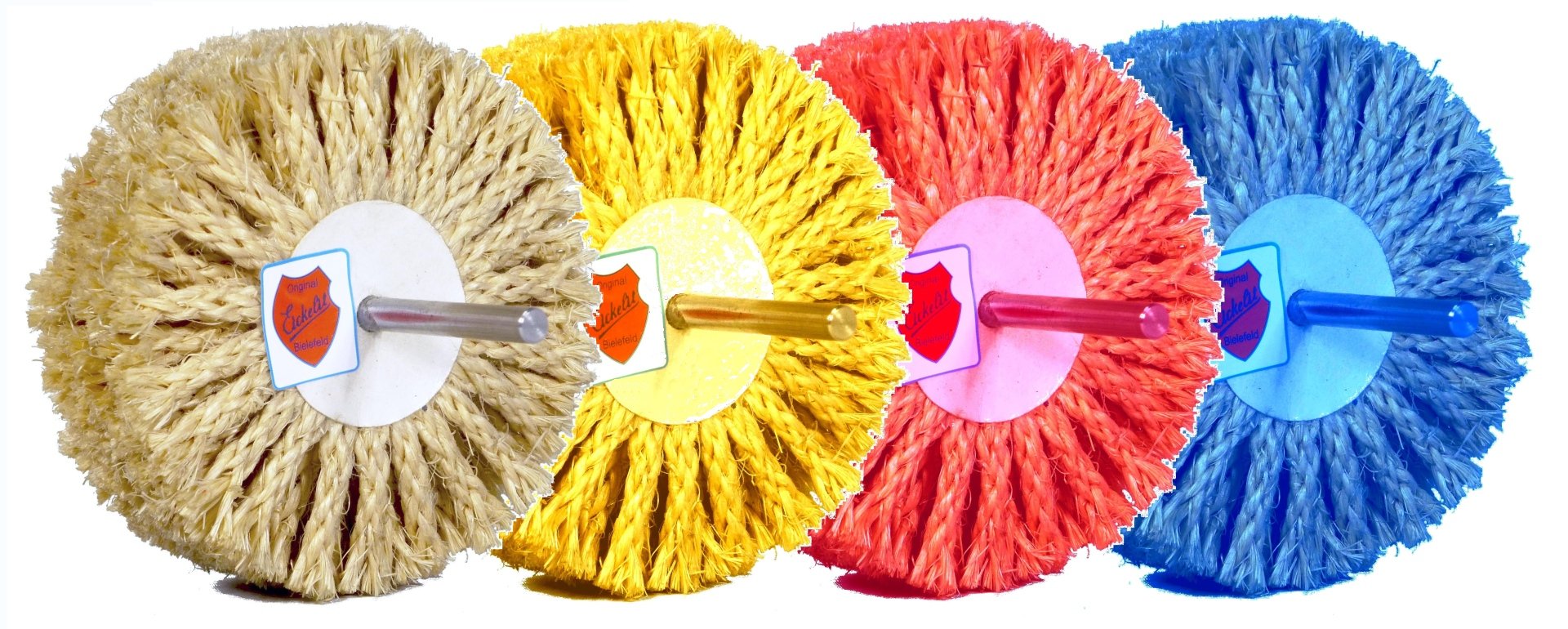 With EICKELIT shank polishing wheels for drilling machines, you ensure perfection down to the last detail. Because these shank tools are manufactured with the same designs and materials as in our polishing wheels for stationary polishing machines. That is why we supply this range of special shank tools for our customers even in small batch sizes.
Precise finishing and fine machining with hand machines on complicated surfaces
Varied choice of materials: Sisal & sisal cord (also impregnated), abrasive fleece, cotton, molton, slit fabric
Diameters from 50 to 150 mm
Thickness 10 - 30 mm
Cast mandrels with 6 or 8 mm diameter, suitable for use on hand-guided polishing drives such as drilling machines, flexible shafts etc.
Recommended optimum cutting speed: 15- 40 m/s
Back to selection
---